BREAKING NEWS
---
by Johnny Betts



May 9, 2005



Rider Review Articles by Ms. Cali


Whoa, it's been quite a while since I've updated the Doorless Stall, huh? That's OK since I know y'all have all been reading The Movie Mark on a daily basis, right? Good. Anyway, I just want everybody to know that I'll be coming out with a new Rider Review soon, but in the meantime I'm finally getting around to posting some Rider Review articles that Ms. Cali sent me quite a while back. So please enjoy...

Girls With Bad Accents and the Guys Who Love Them
Notches, Straps & Ghosts - An Interview With Jimmy Hickock
Surviving the Alamo - An Interview With Teaspoon Hunter

Thanks to Ms. Cali for somehow finding a way to interview all of these fictional (and nonfictional in regard to Hickock) characters who died over 100 years ago. I also have an article that Ms. Ang sent me that deals with Lou somehow. As soon as I find it I'll get it posted as well.

Remember, stay tuned for a new Rider Review coming soon...

October 5, 2004



The DEAD RINGER Rider Review is Here!


Yeah, it took a while, what's new? Quit complaining and go read Johnny's review of DEAD RINGER, with special guest Ms. Ang.

Oh, and after that, do Johnny a favor and go check out his movie site - The Movie Mark - if you haven't already done so. Thanks!

June 8, 2004



The "Ghosts" Rider Review is Posted!


I know it took forever, and I know you never thought the day would come, but finally, it's here. Go check out Johnny's review of "GHOSTS" and see if it was worth the wait.

Oh, and rumor has it that Johnny is on a unprecedented motivation streak and has already finished his first draft of the "Dead Ringer" review. Life is full of surprises.

April 5, 2004

All right, it's been WAY too long since I updated The Doorless Stall. As many of you know, I've been working feverishly on my movie site. If you haven't checked it out, then please do so:

The Movie Mark

Many of you will be happy to know that I'm currently working on the Rider Review for "Ghosts," but until then, I have something else that you might be interested in. How about an interview with the man himself? No, not Josh Brolin. I'm talking about the creator of "The Young Riders." That's right, folks, and this is a REAL interview that Mr. Ed Spielman was kind enough to grant me. So enough of my talking, enjoy an interview with ... Ed Spielman.

January 5, 2004



Let the Season 2 Reviews Begin...


Noah and Rachel arrive while Sam and Emma are unceremoniously given the boot. What does Johnny think of all this? Find out in the review of "BORN TO HANG!"

November 19, 2003



What's Wrong With People Who Use Work Bathrooms?


This message mainly goes out to men: learn some basic bathroom etiquette. The toilet has a flusher for a reason, and the toilet lid is not the best place to do your duty. WHAT'S WRONG WITH PEOPLE WHO USE WORK BATHROOMS?!?!?!?!

September 29, 2003



Movie Review - School of Rock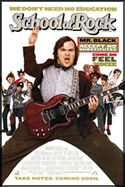 Director: Richard Linklater
Starring: Jack Black, Joan Cusack, Mike White, Sarah Silverman, a bunch of young kid musicians
Rated: PG-13 (for some "rude humor" and drug references)
Length: 108 minutes
Genre: Comedy

Plot. Dewey Finn (Jack Black) is an oversized, highly energized guitar player who serves society by rocking. The problem is that his band mates think he's embarrassing, so they kick him out of the band in order to take a more serious approach at the upcoming "Battle of the Bands" contest.

Unable to pay his share of the rent, Dewey poses as his roommate (a substitute teacher), and accepts a temp job at a $15,000-a-year prep school. After witnessing his students' talents in music class, he proceeds to transform them into a rock band by convincing them it's a school project. Hilarity and hijinks ensue.

Johnny's Take. Now I could impersonate your typical movie reviewer and say something like, "'School of Rock' rocks!" Or even worse I could go the whole "Class is in session!" route. Or I could really make you stop reading this review right now by saying, "Get me the course curriculum because mama, I'm signing up to the 'School of Rock!'" But I'm not gonna do that. I will not resort to loading this review with a bunch of bad puns. I'll simply say that I love this movie. Very funny stuff. The story may not be the most plausible you've ever seen, and the plot may not be the most complex in cinematic history, but the story is cleverly written, and if you walk out of the theater complaining, "I doubt that'd happen in real life!" then you've missed the point of the movie. This is Jack Black at his best.

It's gonna be hard to find a role that fits Black more perfectly. His real-life love for music (you may or may not have heard of his band, Tenacious D) carries the movie. Not only is the movie very funny, but it's also interesting to watch Black walk the kids through the process of playing a song as a band. Plus, the rockin' soundtrack keeps the energy level high. If you're a fan of music and rock history, then there's a lot here for you to enjoy.

When I first saw the trailer I thought, "Hmmm, looks like it might be a bit childish and sappy." Welp, I'm happy to report that that's not the case. Sure, there are some moments of cuteness and "you can do it!" shoulder punches, but Jack Black works so well with the kids that he manages to keep things from being overly sentimental. I saw him on Leno the other night, and he made the following comment: "For every ounce of cute, I made sure there were three pounds of hilarious." That sums it up perfectly. Coincidentally, that's also the formula I use for my reviews.

One of the things I really like about the movie is that all the children in the movie are actual musicians. For me, it's much more fun watching Zack (Joey Gaydos) actually play a screaming guitar solo rather than watching Haley Joel Osment (or whoever today's 10-year-old actor phenom is) keep his fingers on the same chord the whole time. The movie's all about keepin' it real, folks. *taps chest with a sideways fist and kisses fingertips*

This is clearly Jack Black's movie, but Joan Cusack does a good job as the wound-too-tight principle, screenwriter Mike White gets some face time as Black's roommate (Mr. Schneebly), and Sarah Silverman (as Schneebly's girlfriend) plays one of the biggest wainches I've seen on screen in a long time. Every time her character appeared, I considered walking to the front of the theater and slapping the screen. But then I realized that I'd probably look pretty stupid, and people would start yelling at me, so I figured it wasn't really worth it.

Check out the "School of Rock" web page to get a better idea of what to expect. It's a fun site, and I'd recommend checking out the music section and listening to "School of Rock" and "It's a Long Way to the Top." That should get you pumped up and ready for the movie.

Should I see this with my Sunday School class? I don't know if I'd recommend seeing it with your Sunday School class, but there's not too much here that should offend you. The profanities are kept at a minimum, and surprisingly there aren't any included that you can't hear on network television. Technically, this movie could air on primetime without any editing.

It's refreshing to see a funny movie that doesn't rely on crude and blatantly disgusting gags to illicit laughs. "Scary Movie" this movie is not. Thank goodness.

Is it one to add to the DVD collection? Yep. Well, unless you end up hating the movie, but I plan on adding it to *my* collection. I'm eager to see what special features will be included.

Final point. If you like Jack Black and his crazy persona, then I expect you'll like this movie. I found it to be much more enjoyable than either "Shallow Hal" or "Orange County." In fact, I enjoyed it so much that I went to a second advanced screening. My 16-year-old sister and her friend tagged along, and they both loved it. I laughed throughout the whole movie, and I don't think my smile left my face for the last 20 minutes. I hope no one was looking at me because I'm sure I looked like a big dork sitting there smiling and tapping my foot. Oh well.

And hey! Make sure you stay through the closing credits. The band keeps playing, and Black adds some funny lyrics about how the movie is over but the people in the theater are in getting in the way of the cleaning crew. Good times, good times.

As we were leaving the theater, I heard a young boy tell his mom that he wanted to learn to play the guitar. "School of Rock" can definitely have that effect on younger kids. I'm 28, and after the movie I was even thinking about dusting off my guitar and strumming a G and C chord for a little bit. But man, it *is* a long way to the top if you wanna rock and roll. So I decided to watch Jack Black on Leno instead.

September 12, 2003



Movie Review - Once Upon a Time in Mexico


Starring: Antonio Banderas, Salma Hayek, Johnny Depp, Mickey Rourke, Eva Mendes, Danny Trejo, Enrique Inglesias, Cheech Marin, Willem Dafoe
Rated: R (violence, profanity)
Length: 102 minutes
Genre: Action/Adventure

Part three of the "El Mariachi" trilogy. I never saw the first movie ("El Mariachi"), but I saw "Desperado" when it was originally released in 1995 and enjoyed it a lot. At the time I thought it was pretty awesome. The other night I watched it on cable for the first time in 9 years and well, I didn't enjoy it as much as I did back in those baby-faced days of '95. The trailers for "Once Upon a Time in Mexico" looked awesome though, so I was excited for this movie.

Plot. It's a bit convoluted. Let's see if I can keep this straight: General Marquez and drug lord Barillo (Willem Dafoe) are plotting to overthrow the Mexican government. CIA Agent Sands (Johnny Depp) has a score to settle with Barillo, so he hires El Mariachi (Banderas) to take out Marquez. El Mariachi has his own score to settle with Marquez, so he's up for it. As you can imagine, a lot of gunfighting ensues and quite a few people get killed. If I go into too much more detail I'll probably lose your attention.

Johnny's Take. Underwhelmed. That's the most accurate description of how I felt at the end of the movie. I was expecting this movie to be non-stop action (similar to "The Rock"), but alas, that was not the case. Seriously, there are parts where this movie just *drags.* Especially when Johnny Depp isn't on-screen. Without question, he is the best part of the movie, and he has some great lines, including my favorite, "Are you a Mexi-CAN or a Mexi-CAN'T?" If not for Depp, this movie would have very little life at all. About halfway through the movie he disappears for quite a while, and to be honest, so did my interest.

One of the problems is there are so many characters, but none of them really have any well-defined roles. Going into the movie you'd think that Antonio Banderas would be the main star, but he doesn't really have a whole lot of screen time. Well, he has more screen time than anybody other than Depp, but his role is vastly overshadowed by Depp's. His main job is to let his hair dangle in his eyes, lower his head and look upwards, and participate in gunfights.

Willem Dafoe has his hair dyed black, has a black mustache, and speaks Spanish. Oh, and he demands that a piano player's fingers be cut off - I GUESS HE'S BAD! Other than that, he simply doesn't have a chance to do much of anything. It's not his fault, but he's just kind of there throughout the movie.

Mickey Rourke is another bad guy. We learn his background in about two sentences, and then we see that he doesn't necessarily like brutally killing people. So I guess he's kind of a bad guy-lite.

WHERE WAS SALMA HAYEK?!?!?! This is by far the biggest disappointment of the movie. Salma is just all kinds of adorable, but her role amounts to little more than a cameo. We only see her in flashbacks, and let me tell you, I wasn't happy about that.

Danny Trejo is Danny Trejo. In other words, he's a longhaired Mexican bad guy. Yeah, he's typecast, but he does his job well. And in case you're wondering, he's a Mexi-CAN!

Eva Mendes, or as I like to call her - the Mexican Cindy Crawford. Wait, let me check ... whoops, she's actually Cuban, but she plays a Mexican! She's a pretty gal, but unfortunately, she doesn't have much of a role.

Oh yeah, Enrique Iglesias. Who cares? He looks like Matt LeBlanc with a mole and a tan.

Should I see this with my Sunday School class? No, I wouldn't recommend it. There were about 20 "f-words" and sprinklings of other "colorful" language. There was no nudity, but there was a little sexual innuendo, plus there was a flashback of Banderas and Hayek makin' out. A lot of the "R" rating is earned through the bloody gunfights.

Is it one to add to the DVD collection? No, unless you're a huge fan of the first two.

Final point. The best I can say about this movie is it's all right. I didn't hate it, but I wasn't blown away like I was expecting. However, this movie is quite entertaining at times. The gunfights are cool, but there aren't enough of 'em. And Johnny Depp is great, but whenever his character leaves the screen, if you listen closely, you can hear the sound of brakes screeching. The movie comes to a halt.

This movie definitely isn't for everybody. If you loved the first two, then you'll probably like this one. If you're not sure what to expect from the movie, but you want to see it, then LOWER your expectations now. Maybe one of the reasons I was so underwhelmed is because I set my expectations just a little too high. If you're a Johnny Depp fan and you just have to see the movie, then you'll definitely enjoy every minute he's on-screen, but make sure you see a matinee because it's gonna be hard to justify spending at least $7.50 to see this one.

August 26, 2003



MOVIE REVIEWS




Jeepers Creepers 2


Starring: Nobody you've ever heard of. Don't believe me? Ray Wise gets top billing. See what I mean? Jonathan Breck is back as the Creeper.
Rated: R (violence, extreme profanity)
Length: 106 minutes
Genre: Horror

The original "Jeepers Creepers" was a somewhat effective horror movie. The first half of the movie did a great job of creating tension, but the second half turned into a typical monster-kills-all horror flick. Overall, I found the movie to be entertaining, but I wouldn't call it a keeper. If you haven't seen the original, then you may want to rent it before deciding whether or not to see this sequel.

Plot. There's really not much plot to the movie. Honestly, I could've written it in my sleep. The Creeper is a monster who eats every 23rd spring, and it can only eat for 23 days. And, you guessed it (I hope), it feeds on humans. It's the 23rd day of its feeding frenzy, so the Creeper must take advantage.

He kidnaps a kid from a cornfield and then sets his sights on a busload of high school basketball players. The Creeper sabotages the bus, and begins to inflict a reign of terror on the stranded kids. But a revenge-minded father is intent on curbing the Creeper's appetite once and for all ... muhahahaha! Sorry.

Johnny's Take. I know most critics have spat venom at the movie, but I had fun. The first half of the original "Jeepers Creepers" did a better job of setting a creepy, tense atmosphere, but this sequel is probably a little more consistent. It's faster-paced and more action-oriented than the original. And we see a lot more of the Creeper. He is indeed one creepy monster, and he displays a little more personality this time around. He's sort of like a Freddy Krueger who doesn't talk, can fly, kills people in reality rather than in their dreams, doesn't have ... um, well, maybe the similarities between the two aren't so striking, but there were a couple of times where he flashed a little humor.

This is probably a movie that would be better enjoyed in private, or at least with a smaller crowd. I saw it at packed-house advanced screening, and the audience was a little annoying. People would scream at silly moments, or they'd laugh at inappropriate times, or they'd just be big morons and talk to the characters. "Oh unh-unh. Oh no you di'n't! No girlfriend, don't you go in there! Ooooooooh! Girl so stupid! Why she gotta act so whack?" SHUT UP AND LET ME WATCH THE MOVIE! But I will say that the crowd was definitely into it.

The Characters. There was only one person in this movie that I recognized - Diane Delano. She played a nurse or teacher or something on the WB series "Popular." I had to look up her name though. If that doesn't scream, "every character is expendable" then I don't know what does. This method has its plusses though - you don't know which teenagers will die and which won't.

The main problem is I didn't care which characters died. Seriously, I found myself rooting for the Creeper. After all, the Creeper can't be who he's not, right? Nobody knows his origin, but he's not human. Some say he's been around for thousands of years. He's just living according to his nature, right? So forgive me for the fact that I smiled joyfully whenever the Creeper would do away with a character that had reached the limit of his annoyance. The Creeper is merely providing a public service - ridding the world of whiny Dawson's Creek rejects.

One of the basketball players looked like a chubbier version of Heath Ledger. The guy was annoying though, so it's doubtful you'll care what happens to him.

Content. Profanity is extreme with close to 40 "f" words, and lots of other profanities. There isn't any nudity, but they showed way too many guys walking around shirtless. I DON'T WANNA SEE THAT! Seriously, it was way overdone. It probably has something to do with director Victor Salva. I found out that he was convicted of child molestation many years ago. I saw the movie for free, but you may want to consider the director's past before spending money on the movie. Just trying to inform you.

It's definitely not a movie to take your Sunday School class or Boy Scouts troop to see.

Is it one to add to the DVD collection? Nah.

Johnny's Final Point. If you're looking for an intellectual, plot-driven movie with deep characters and memorable performances then avoid this movie. But if you're in the mood to eat a little popcorn while watching a creepy monster wreak a whole lot of havoc on a bunch of annoying high school kids then you might get a kick out of "Jeepers Creepers 2."



Freddy Vs. Jason


Starring: Robert Englund, Ken Kirzinger, Monica Keena (oooh baby), John Ritter's son, Kelly Rowland (one of the chicks from Destiny's Child who isn't Beyonce Knowles)
Rated: R (mucho violence, extreme profanity, drug use, and nudity)
Length: 98 minutes
Genre: Horror

Some movies you go see just because you're dying to see them, some movies you check out because of good word of mouth, and then there are those that you feed your hard-earned dollars just out of morbid curiosity. For me, "Freddy Vs. Jason" is a movie that falls in the latter category. I was a never a big fan of the "Friday the 13th" series. The first one was all right, and the one with Corey Feldman was good for a laugh, but the other ones are so inherently silly that I haven't wasted my time with them.

"Nightmare on Elm Street" has been a much better series. It's been a while since I've seen the movies, but I remember liking the first three. The later ones have been a little cheesy though, and I've only caught pieces of them on TV.

So even though none of these movies adorn my DVD collection, I have to admit that I was curious to find out who would win in an epic showdown between good and evi... well, make that an epic showdown between right and wro... um, AN EPIC BATTLE BETWEEN MASS MURDERERS! I must also admit that I was actually entertained by the movie.

Plot. You know, the plot was actually clever! Freddy's been roasting marshmallows in Hell lately, but he's really getting an itch to kill. The problem is that Freddy feeds on fear, but he can't be feared if nobody remembers him. Speaking of Corey Feldman, it's ironic that he has sort of that same problem these days. The people of Elm Street are doing their best to suppress any and all memories of Freddy's past deeds, including institutionalizing Freddy's survivors (John Ritter's son and an actor you've never heard of).

Freddy, being the indestructible serial killer that he is, decides to resurrect Jason and send him to Elm Street. Freddy figures that a nice little Jason killing spree on Elm Street will make everybody remember Freddy and allow him to start infiltrating people's dreams once again. It works, but Jason has no plans of stopping his killing spree. This upsets Freddy once he realizes Jason's stealing his kills. This leads to a monumental battle between supernatural serial killers.

Johnny's Take. Based on artistic merit alone, I have to admit that I found the movie to be entertaining. The action maintains a quick pace, Freddy has some funny one-liners, and there are some pretty wicked kills. The movie really kicks it into high gear for the final 30 minutes when Freddy and Jason enjoy a big brouhaha. The only thing missing was a run-in by The Rock. I think my favorite part of the movie was the look on Freddy's face when he realized that he had been pulled out of the dream world and into Jason's world.

Does the movie have a great script and great actors? Nah. Will director Ronny Yu be keeping his fingers crossed on Oscar night? Well, I wouldn't bet my last Alan Thicke 8X10 on it if I were you. But the movie hits the target it's aiming at.

Yes, some of the movie is silly, and yes some of the characters are stupid, but the premise of this movie is that two legendary mass murderers who cannot be killed are fighting each other. You were expecting "Memento"?

I could write a thesis about some of the gaping plot holes that exist in the movie, but there'd be no real point. I do want to comment on a couple of absurdities though. There's one scene in a cornfield where Jason starts slashing throats. The kids are having a little shindig in the cornfield ya see. Well, a couple of dudes (including a Horatio Sanz impersonator) happen to see Jason in the cornfield. Now, you tell me, what would *you* do if you were in a cornfield at night and all of a sudden bumped into a 7'0" tall guy wearing a hockey mask? And before you tell me that you'd start exchanging pleasantries, let me remind you that the back of his head is burnt and has pieces of hair sticking out. If you were to tell me that your instinct would be to run faster than John Goodman's heart rate at a steakhouse, then sorry, but you'd never make it in the horror movie business. The two morons in the movie start trash-talking Jason about his hockey mask, and well, I can't say they didn't deserve what happened to them.

I'd also like to know why 75% of the kids were just standing around about 5 minutes after Jason started his cornfield killing spree. They might as well have just formed a single file line and let Jason do his thing. Oh, and what do our heroes do after fleeing the bloodbath? They drive home. I'm just curious, have they not heard of the time-honored tradition known as REPORTING A MASS MURDER TO THE POLICE?!?!?! Come on. If I just witnessed a handful of brutal murders I'm not gonna be heading home and crawling into bed for a good night's sleep.

But that's the beauty of a movie like this. These are the kind of scenes that you want to be included! You want material of this nature to make fun of. It just wouldn't be the same without it.

The Characters. To be fair, the acting wasn't all that bad. It's better than you'd expect from this type of movie. Most of the characters are pretty generic, but they gave it their all. Monica Keena (from the now-cancelled, vastly underrated "Undeclared") does a good job as the female lead, Lori. She's one of Freddy's new targets, and she's the daughter of one of the former victims. She's easy on my dark brown eyes also.

John Ritter's son (all right, all right, his first name is "Jason") is Lori's old boyfriend. He mysteriously disappeared years ago, but he was actually confined to a mental institution. He escapes and comes back to save Lori. He does an all right job I suppose, but I'm not eagerly awaiting his next movie. Kelly Rowland plays the stereotypical "minority girl with an attitude." It's pretty much required for all horror movies, but she fills the role adequately. There's one scene where she trash talks Freddy, but unfortunately she didn't include any "finger snaps and head bob" action during the verbal tirade. Too bad. I was expecting her to start doing spinning roundhouse kicks to Jason's head (ala Busta Rhymes in "Halloween: Resurrection"), but thankfully we were spared.

Sure, the movie has its fair share of moronic characters, but that's what makes a movie like this fun. How can you not laugh at unknown actors who are doing bad impersonations of Horatio Sanz and Jay (from Jay and Silent Bob)?

Content. It's rated R, and there's no question why it got that rating. I've gotta admit that this isn't exactly the most morally uplifting movie in cinematic history. You can't really blame somebody if he has a problem deciding which mass murderer to root for.

Profanity is extreme with close to 40 "f" words, and lots of other "colorful" language. Both male and female nudity is present. It's not a movie you wanna see with your parents or Sunday School class. I took a shower afterwards to try to clear my conscience.

It should come as no big surprise that there is violence, and lots of it. We see slashed throats, ripped off noses, empty eye sockets, people getting cut in half, and well, you get the picture. It's not for the squeamish, and if you take a young child to see this movie then you should be punched in the head.

Johnny's Final Point. This is one of those movies where you can pretty much figure out on your own whether you'd like it or not. Do you hate slasher flicks? Then this isn't for you. Did you look at the trailer and say, "That looks dumb"? Then you'll probably think it's dumb. But if you're a fan of Jason, Freddy, or horror movies that are mainly concerned with racking up kills, then you'll probably find this movie entertaining.

I won't add this to my DVD collection, but I might rent the DVD to see the alternate endings. This isn't an intellectual horror movie designed to keep you on the edge of your seat. This is a Freddy/Jason movie designed to make the fanboys wet their pants and have fun mocking the poor saps caught in the killing spree, and in that regard, it succeeds.

August 18, 2003



The Young Riders Season 1 Questionnaire


If you're a fan of The Young Riders, then I need your help! Regardless of what you think of the Rider Review, now is YOUR chance to vote on best rider, best scene, funniest scene, best line, etc. of Season 1.

Just go here:

http://www20.brinkster.com/moviephile/theriderreview/season1/season1questionnaire.asp

And then answer all the questions and hit the "Submit your answers" button. It's pretty straightfoward.

My YR Season 1 wrap-up will be sort of an awards show. I'll be announcing my winners for each of the categories, but the "people's choice" winners will also be announced, so it's up to you to try to help out your favorites. Your answers WILL count for something.

I hope you'll help me out with this. I'm eager to start the Season 2 reviews, but I've gotta do my wrap-up first. I would like between 50 and 100 responses, so I know you'll do your part to help out.

If you have any comments or questions then just let me know. I did all the programming myself for this questionnaire, so I'm eager to see how it works out. Your help is appreciated. You can also comment on my reviews, so now's the time to let your voice be heard!

August 14, 2003



MOVIE REVIEW - S.W.A.T.


Starring: Samuel L. Jackson, Colin Farrell, Michelle Rodriguez, LL Cool J, Josh Charles, and Oliver Martinez
Rated: PG-13 (violence, language and sexual references)
Length: 118 minutes
Genre: Action

Have you ever noticed how much movie critics and journalists absolutely love to use puns? I made a guarantee to my friend that there would be a movie critic somewhere that would review S.W.A.T. and would make a comment equivalent to, "This movie ain't worth jack S.W.A.T." Welp, my friends, it turns out that I was very prophetic. In his review, Danny Minton of KBTV-NBC in Beaumont, TX actually writes, "This movie ain't worth didly s.w.a.t." I KNEW IT! I just knew it would happen.

So I figured I might as well join the fray and use my own puns. Like I always say, if you can't beat 'em, then satirize 'em. So ladies and gentlemen, I'd like to introduce you to "The Johnny Betts Movie Review Pun Headline." *ahem* *stretches neck a bit* *straightens phantom tie*

"This is definitely a movie that you shouldn't S.W.A.T. *wink* away!"

Thank you. Make your checks payable to "Johnny Betts." Send me an email and I'll let you know where to send your payment.

Plot. Nothing too complex here. But come on, this is a movie starring Samuel L. Jackson as a character called "Hondo." If you were expecting a "Sixth Sense" plot, then you haven't seen too many movies.

Colin Farrell (Jim Street) is a member of the S.W.A.T. team, but when he and his partner break the rules to put an end to a hostage situation, well, their boss ain't happy. Farrell gets demoted, and his partner is fired. Never fear though, Samuel L. Jackson is called back to build an old-school S.W.A.T. team. He proceeds to recruit the likes of LL Cool J ("Big Ol' Butt"), Michelle Rodriguez ("The Fast and the Furious," "Resident Evil"), and, that's right, Colin Farrell.

We watch the team run through training procedures, and all is fine and dandy until ol' drug kingpin Oliver Martinez ("Unfaithful") is arrested. He announces on TV that he will give ONE HUNDRED MEEEEELYON DOLLAHS to anybody who'll break him out of jail. Jackson's newly assembled S.W.A.T. team gets the pleasure of escorting him into federal custody. Not unexpectedly, hijinks and brouhahas ensue.

Johnny's Take. I liked the movie. It's not one I'll add to my DVD collection, but it's pretty much what you'd expect from a late-summer "popcorn flick." It moves along at a brisk pace and keeps the action flowing. Throw in a little humor and you've got an enjoyable movie. I love the product placement. Call me crazy, but I'm gonna go out on a limb and say that Dr. Pepper has a tie-in with the movie. It's so in-your-face though that it looks like it was done intentionally for a few laughs.

Is the plot totally believable? Nah. Oliver Martinez announces his $100 million offer and thugs everywhere are just gonna take him at face value? "Hey, I don't know who the guy is or if he's really got that much money, but let's start throwing grenades in the street and ramming huge trucks into police cars!" Well, when I think about it, I guess it's not that far-fetched! Think L.A. riots.

There's a plot twist that doesn't exactly give "Memento" a run for its money, but it keeps things fresh. I'm not sure what was going on with the romantic angles though. They toyed with the idea of Farrell and Rodriguez getting together, and then they hinted at Farrell getting back with his old girlfriend, but then both of those story lines just got dropped. Sounds like there'll be a few deleted scenes on the DVD.

The Characters. Samuel L. Jackson plays Samuel L. Jackson. If you've seen him play a cop or a military man before then you know exactly what his character is like. But he does a good job, so there's nothing wrong with that.

Colin Farrell's all right. He's not at the top of my list of "tough guy actors" but he's more believable than Tom Cruise. He needs to work a little harder on his American accent though.

Michelle Rodriguez really stretches her acting talents in this role. If you can believe this, she plays a tough girl who furrows her brow, squints her eyes, and pouts a lot. In other words, she's officially being typecast.

LL Cool J doesn't have a lot to do other than provide some comic relief and show off his abs.

Oliver Martinez doesn't really come off as a brutal, menacing bad guy. In fact, he did little more than make wisecracks to get on the S.W.A.T. team's nerves. However, how can you not love the way he does a Ricky Ricardo impersonation when saying ONE HUNDRED MEEEEELYON DOLLAHS???

Content. It's rated PG-13, but I'd be hesitant to let a 13-year-old watch it. It's definitely not a movie I'd recommend to my mom. There was one needless "f" word and an overabundant use of "G-d**n." The rest of the movie is peppered with typical PG-13 profanity. While there is some sexual innuendo, there's no nudity.

Violence does abound, but it's not very graphic. There are the expected explosions and on-screen deaths, but there's very little blood. Doesn't mean you wanna rush your 8-year-old to see it, but the violent content isn't graphic enough to offend most adults.

Johnny's Final Point. It's pretty much what you'd expect from the trailer. So if you saw the trailer and said, "That looks stupid," then save your money and see something else. But if you liked the trailer and can keep from overanalyzing the plot, then you should enjoy the movie.

It's not the best movie of the summer, but if you've got nothing else to watch until "Freddy vs. Jason" comes out, then you could make many worse choices than S.W.A.T. I'd make it a matinee though. I hear that they're already working on a sequel. The basic plot involves a group of people trapped inside one of the few remaining theaters showing "Gigli." The S.W.A.T. team has to run in and make the save. Should be interesting.

July 29, 2003



Johnny Betts Thinks He'll Pass on a Free Screening of "Gigli"


Johnny Betts has the opportunity to see a free screening of the new Jennifer Lopez/Ben Affleck-Lopez movie, "Gigli," but he thinks he might skip it. "The screening is this Thursday, and I've just got better things to do on a Thursday," said the dark-haired, chisel-armed writer of the Rider Reviews. When asked what these "better things" were, Betts replied, "Exercise, play Xbox, watch Smackdown, you name it. I just don't know if I can sit through 2 hours of Affleck's incredibly fake Jersey accent."

The fact that the screening is free fails to persuade Betts to give the movie a chance. "You see that pile of dog crap over there?" Betts asks. "That's free too, but you don't see me picking it up and taking it home with me. Plus, when you go to a free screening you have to get there at least an hour early. Can you imagine standing in line for an hour to look at a piece of crap for 2 hours?"

Betts is quick to explain why the movie doesn't hold much appeal for him. "The trailer looks awful. Jennifer Lopez looks good in it, but I can just replay the trailer over and over if I need a J Lo fix. But I'd have to play the trailer with no sound because like I said earlier, I can't take much more of Affleck's fake accent."

He's also not a big fan of the movie's title. "And what's up with the name? It's pronounced 'Zhee-lee.' That has to be one of the stupidest movie titles I've ever heard. I originally thought it was pronounced 'giggly,' but I guess that'd be stupid? Whatever. If it was pronounced 'jiggly' and was a documentary about J Lo's big booty, then I'd attend the screening. But what we're stuck with is a movie where Affleck and J Lo are a couple of gangsters who kidnap a psychologically challenged kid. They fall in love and ol' Gigli transforms into a human being. Yeah, sounds great. Might as well rename the movie Bombli because this movie's gonna tank at the box office."

July 22, 2003



MOVIE REVIEW - Johnny English


Starring: Rowan Atkinson, John Malkovich, Natalie Imbruglia, and a bunch of people you've never heard of
Rated: PG (minimal crude language and humor, old guy nudity)
Length: 88 minutes (though it sure seems longer)

"Johnny English" is supposed to be a comedy starring Rowan Atkinson of "Mr. Bean" fame. I guess I'm mistaken in thinking that a comedy is actually supposed to be funny. One of the taglines for the movie reads, "He Knows No Fear. He Knows No Danger. He Knows Nothing." At the end of that they should have added, "He Knows No Humor."

Plot. When all of England's top secret agents are killed in an explosion, it's up to Johnny English (Atkinson) to figure out who has stolen the crown jewels from the Tower of London. We follow Johnny as he falls into one predictable mishap after another. The majority of the jokes are lame and you can see them coming about 10 minutes before they arrive. By the time the joke actually arrives, you've already played it in your head, told yourself "That's gonna be lame," and started wondering what kind of moronic guys will be on "Elimidate" tonight.

I'll have to admit that it wasn't the worst movie I've seen this summer. That honor still belongs to the unforgivable "Legally Blonde 2." But I'd say "Johnny English" probably ties "Daddy Day Care" for the second worst movie I've seen this summer. Having said all that, I must confess that I laughed a couple of times, but I never experienced an aisle-rolling guffaw. The last 10 minutes of the movie picks up the pace a bit, but by this time it's just too late and nobody really cares anymore.

The funniest thing in the movie is probably John Malkovich's fake French accent. It's as stereotypically fake as a French accent can get. Rumor has it that he found a book at the Dollar Tree called, "How to Fake a French Accent - Just Replace the 'th' sound With a 'z.'"

As we were leaving the theater I heard one guy say, "It was OK. I'm glad I didn't pay to see it. I mean, if it was on cable and I had nothing else to do then I might watch it." He sums it up rather nicely except I'm pretty sure you could find something better on cable to watch. Natalie Imbruglia is cute though. She had a bit of an Elizabeth Hurley vibe going, but she wasn't in the movie long enough to merit even the slightest "eye candy" recommendation.

Johnny's Final Point. "Johnny English" is an unoriginal, predictable, and unfunny movie whose humor is definitely directed towards 10-year-olds. There are too many good movies still in the theaters that you should see first, and if you've already seen all the good ones then just go see "The Italian Job" or "Terminator 3" again. I'm so glad I saw "Johnny English" for free, and thankfully I'm only about 7 minutes from the theater where it was screened else I probably would've asked to be reimbursed some gas money. Johnny English - he's definitely no Johnny Betts.

July 14, 2003



You know it's a slow news week when...


...an oversized Italian sausage is all over the front page. You've heard the story by now, haven't you? Oversized meat products were running a race during the 7th inning stretch of a recent Brewers/Pirates game. The Italian sausage ran fairly close to Pirate's first baseman Randall Simon, so he whacked its over-sized head with a baseball bat. The Italian sausage fell to the ground, and in the process knocked over the Hot Dog. Thankfully, all reports indicate that the Polish sausage and Bratwurst were fine.

Simon says he was just playing around, and I believe him. I'm sure he didn't mean to knock the sausage down, and Mandy Block, the 18-year-old inside the sausage suit, finds the whole situation to be quite funny. She only suffered a couple of scrapes on her knees and feels it's all been blown out of proportion. I have to agree with her. It's regrettable that she fell down, but listen to what Rick Schlessinger, the Brewers executive vice president for business operations, said about the incident:

"This is one of the most outrageous things I've ever seen inside a ballpark or outside a ballpark. It sickened me to see it."

This is one of the most outrageous things he's ever seen inside OR outside a ballpark? Does this guy ever get out of his house to witness the world around him? Inside the ballpark you've got crazed drunks storming the field and attacking umpires. I'd also have to rate bench-clearing brawls as a little more severe than hitting a huge foam head with a bat.

Outside the ballpark you've got rapes, murders, carjackings, kidnappings, the Anna Nicole Smith show ... the list goes on. But let's say Mr. Schlessinger has never actually witnessed any of those things. Unless he lives in a plastic bubble, then he's seen reports of such things, all of which are a tad more outrageous than a foam mascot getting hit by a bat. Maybe he DOES live in a plastic bubble and somebody attacked it with a bat once? Perhaps this incident hits closer to home for Mr. Schlessinger than it does for the rest of us.

If Simon had been malicious then yeah, it's serious business. But it was obviously a prank that didn't go exactly as planned. Simon autographed the bat and gave it to Mandy, she's happy, and all is fine. Simon was cited for disorderly conduct and fined $432 that he can more than afford thanks to a $1,475,000/year salary.

What offends *me* are the bad puns that newspapers are using when reporting on the situation. You've got the Taipei Times using, "Wurst is over for Simon after he slugs a sausage," and then the Pittsburgh Post-Gazette gets their pun in with, "Simon's sausage beef is over." Do a quick Internet search and you'll find plenty of similar bad puns. Is this necessary?

Shouldn't we try to get to the MEAT of the issue rather than trying to be cute? Rather than filling us with a bunch of BALONEY, newspapers need to be filling us with the facts. You just know that newspapers RELISH stories like this because they ... I'm sorry, I'll stop now. I just wanted to know what it felt like to be a "real" journalist.

In the immortal words of Mandy Block, "I'm just a sausage running a race."

July 4, 2003

What's Wrong With Subway?!?!

First off, let me apologize for not sharing my witty repartee with you fine folks last Friday. I figured no one would even notice, but a couple of emails proved otherwise. I will do my best to prevent such negligence in the future. Tell you what; in a small attempt to make up for last week, I'll discuss two topics today. Sound good? No? Too bad.

WHAT'S WRONG WITH SUBWAY?!?! Does anybody remember the days when Subway's 6-inch sandwich used to actually be 6 inches? Does anybody remember when the bread was nice and fluffy? I have a vague recollection of that time gone by. Two things were certain back in those doe-eyed days of high school: nobody had a cooler 'fro than Kevin Arnold, and nobody made a sub sandwich like Subway.

That was yesterday. "The Wonder Years" has long been cancelled, and somewhere along the way Subway stopped caring. They lost their smile. Today a 12-inch sub is probably closer to 6 inches, and the once-fluffy bread now looks like Anna Nicole Smith sat on it.

I love Philly cheese steaks. So the other day when I noticed I had a Subway coupon; I figured I'd head over there and see how good their new cheese steak sub was. I hadn't been to Subway in a while because my last few experiences haven't been great. The food still tastes good, but the sandwiches are getting smaller and smaller. It's almost gotten to the point where when I get my "6-inch" sub I've gotta tell the people that I don't recall ordering any finger food. Unfortunately, the cheese steak sub wasn't any different.

Have you ever eaten the really cheap deli meat from Kroger? You know, it comes in red, green, blue, etc. packages. The meat is so incredibly thin that it practically takes an entire package to make one sandwich. That was a theory my mom never subscribed to back in my school days when she made my lunch. For some reason she thought that one piece of that 1-millimeter thick meat would make me an ample sandwich. She never understood that I couldn't even taste the meat because the slice of American "cheese" that she put on the sandwich was about 6 times as thick as the meat.

Well, it seems that Subway has decided to use meat that's just about that thick. Or I should say "thin." They put about 5 pieces of the razor thin meat on my sandwich, and the stuff was so thin I could actually see through it! Then they smashed the bread together so much that the total sandwich was probably about as thick as my fingernail. Why? What happened? Does Subway feel that it's so established that it doesn't have to care anymore? Fine with me. I'll just take my business to Fazoli's, Lenny's, or Quizno's.

I was so disappointed that I decided not to even eat the sandwich. I saved the meat and am currently using it as tracing paper. It's working quite well. WHAT'S WRONG WITH SUBWAY?!?!?!

Three movies opening this weekend, which do you see? As many of you know, I'm currently designing a movie website. One of the featured sections on the site will be movie reviews. I wanted to write full reviews of Terminator 3, Legally Blonde 2, and Sinbad this week (since I saw all three early and for free), but alas, the full reviews will have to come later.

However, I do want to give you some advice just in case you want to see one of the three above movies this weekend, and you don't know which to see.

Terminator 3: Great movie. If you liked the first two movies in this franchise, then you should enjoy this one. Not surprisingly, it's big on action, but the story isn't half bad either. In a nutshell, John Connor is now 18, a leather-clad female Terminator (the Terminatrix) is sent to destroy him, and Arnold must protect him. The car chase (which is even better than the car chase in "Matrix Reloaded") and the fight between Arnold and the Terminatrix make this movie worth the price of admission.

Schwarzenegger has aged well. He's still in good shape, and it's good to see that he isn't suffering from "saggy man-boob syndrome" that afflicts older, muscular guys such as Hulk Hogan.

Legally Blonde 2: One of the worst movies I've ever seen at the theater. Elle Woods puts her wedding to Luke Wilson on hold so she can head to D.C. to champion animal rights. Yippee. Could you just go ahead and stab me in the eye with a hot poker instead?

I know I'm not exactly the demographic being targeted by this movie, but come on, give us guys a bone! I saw the first "Legally Blonde," and while it's not a movie I'll add to my DVD collection, I thought it was OK. I didn't hate it. This second installment, however, was just painful to sit through. I guess I can see how some females would like it (especially 10-year-old girls), and if you absolutely loved the first one then you might like this, but it offers absolutely nothing to the straight male demographic.

I figured Luke Wilson would at least have some funny lines, but unfortunately he was thrown in the background and only allowed to say stuff such as, "Don't worry about the wedding, Elle, you stand up for what you believe." I kept hoping somebody would turn to me and say, "Don't worry about the movie, Johnny, you stand up and LEAVE!" It's an offer I would've gladly taken.

I only chuckled two or three times, and I enjoyed not even a single guffaw. But hey, if you're the type of person who can't get enough of "believe in yourself" speeches and "I haven't been this excited since Gucci became a publicly traded company!" jokes, then you might just like it.

Sinbad: Legend of the Seven Seas: It's an animated movie, and while it's nowhere near as good as "Toy Story" or "Toy Story 2," it's still enjoyable. If you've got kids, then they'll probably enjoy it. I'm not so sure plot matters in a movie like this, but basically Sinbad (voiced by Brad Pitt) must steal the Book of Peace from the goddess Eris (Michelle Pfeiffer), or his friend Proteus (Joseph Fiennes) will die. Proteus' fiancée, Marina (Catherine Zeta-Jones) accompanies Sinbad and his sailors on their trip. Naturally, hijinks ensue.

My 8-year-old brother, Andrew, went to the movie with me and I asked him, "If somebody asked you what you thought about Sinbad, then what would you tell him?" He replied, "Go see it. You'll probably like it. I did." I'd definitely make sure it was a matinee though.

So what should you go see? Well, I'd personally recommend Terminator 3. But if you've got kids that you're required to haul around, then you might want to check out Sinbad. I refuse to recommend Legally Blonde 2 at all. Ladies, if you just have to drag your man to a "chick flick," then they'd appreciate "Charlie's Angels" (and YOU) so much more.

Have a great 4th of July.

June 20, 2003

The Review of "Gathering Clouds (Part 2)" Is HERE!

What better way to end your week and start your weekend than with a brand new Rider Review? *Johnny ignores all the hands that are raised* Who made the Rider Beat cover? Does Kid get hanged? Does Captain Fonzie get his mullet cut off? All the answers can be found in the "Gathering Clouds (part 2)" review.

June 13, 2003

The Review of "Gathering Clouds (Part 2)" Is Coming Soon

That's right, it should be ready by the beginning of next week.

Gregory Peck. The big news this week is that Gregory Peck, most famous for his role as Atticus Finch in "To Kill a Mockingbird," passed away at the age of 87. There's really only one thing I can think to say, Gregory Peck was still alive?

Bumper Stickers. I saw a bumper sticker the other day that said, "I'd rather be at a Rick Springfield concert." That's too funny! Unless the bumper sticker is supposed to be taken seriously, in which case it'd just be downright sad.

Dumb and Dumberer. I saw a FREE advanced screening of this movie the other night. I'm a fan of "Dumb and Dumber," but I can't really recommend this prequel. It has some funny moments, but it's not exactly something I'll attempt to see over and over. I have to say that the guy who plays a young Jim Carrey (Eric Christian Olsen) does a very good job. He looks and sounds like a young Jim Carrey, and he did a good job impersonating Jim's mannerisms. But overall, it gives a few chuckles rather than aisle-rolling guffaws. It was better than "Daddy Day Care" though (which I also saw for free, in case you're wondering).

That's it for me. I'm gonna go play some Xbox.

June 6, 2003

Is it Not Safe to Go to the Bathroom Anymore?

Stephanie and I went to see Todd Snider play at the Gibson Lounge last night. It's a nice place to catch a show, but it's a little bit on the swanky side. I don't mind the fact that they serve duck quesadillas and other fancy dishes, but I do have a problem with the bathroom situation.

Going to the bathroom should be a private thing. I want to be able to go in, take care of business, and then leave without any feelings of unease. Unfortunately, going to the bathroom at the Gibson Lounge isn't such a private affair. I knew I was in trouble when I walked into the bathroom and saw a dude standing in the corner holding paper towels in his hand. "Great," I said to myself, "it's one of those places where you get harrassed in the bathroom."

Welp, after I paid my respects and was ready to wash my hands, I noticed there was no soap in the dispenser. Never fear, bathroom boy is here! Wow, you just don't know how much fun it is for some strange guy's arm to appear over your shoulder ready to squirt soap into your hand. "Thanks," I mumbled with no real conviction.

"There's no way around this," I thought to myself. "He's gonna expect a tip." This guy was like a shadow. As soon as I turned around he was right there shoving paper towels in my face. "Great, thanks, I wasn't really aware how to use soap or paper towels, so I'm glad you were here to help me out." I watched the other people that he was harrassing, and they were putting money in his tip jar, so I caved and reluctantly put $1 in there as well.

Now look, I have no problem tipping people for a job well done. I'm a very generous tipper when we go out to eat. Honestly, I usually tip around 20-25%. But I'm not a fan of "bathroom attendants." Shouldn't people be allowed to go to the bathroom in peace? How can you be comfortable in the bathroom when someone is peering over your shoulder, ready to squirt soap on you and throw paper towels in your face? Listen to me, THAT DOES NOT MAKE THE BATHROOM EXPERIENCE ANY BETTER! If there are any bathroom attendants reading this that are offended by my words, then sorry, but when I go to the bathroom I don't need you leaning on my shoulder, OK? Try waiting tables and I'll be more than happy to give you a tip. I'm bold enough to say that this country does not need more bathroom attendants. I'm pretty sure people can take care of their own business just fine.

I'm sorry, but somebody had to say it. WHAT'S WRONG WITH PEOPLE?!?!?!

May 30, 2003

There's No Accounting For Taste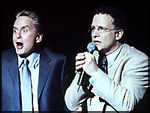 I was robbed. Plain and simple. Every week, Moviefone.com has a caption contest. They post a picture from a current movie, and then readers submit captions. The winner gets two free movie tickets. They claim that winners are chosen by the Moviefone.com editorial staff, and they claim that the criteria used are 1) Humor, 2) Keenness of observation, and 3) Pertinence to the contents of the photo. After my first week of trying out this contest, I've come to the conclusion that winners are actually chosen by random selection.

To the left you see a picture of Michael Douglas and Albert Brooks from "The In-Laws." It was last week's photo. You can submit up to three captions a day. I only submitted a total of three, but all three were top quality:


Albert Brooks can't contain his shock when he notices that Michael Douglas' latest face-lift didn't take.
Jay Leno and David Letterman are shocked to hear that Conan O'Brien has beaten them out for the role of Rocky Dennis in "Mask 2: Rocky Returns."
Please! Please give us a sequel! I promise Michael's Botox injection isn't permanent!
Top-notch, right? I DIDN'T EVEN FINISH IN THE TOP FIVE! "Oh, well, the top five must be really funny then!" Nope. Out of hundreds of entries, here are the top five, as chosen by an "editorial staff" *COUGHofmonkeysHACK*


The success of American Idol inspires a spin-off: AMERICAN IDIOT.
Someone came to see our movie.
Who let the dogs out ... Woof, woof, woof, woof woof!
The Beastie Boys enter mid-life crisis.
Anyone else for the "Jim Carrey look-alike" contest?
Huh? Someone came to see our movie? That's funny? See how badly I was ripped off? Oh well, from now on I'm just gonna post really lame captions and try to win with the cheesiest stuff I can think of. I think I'll write a lot of variations of the "who let the dogs out" caption. There are cars in the photo? "Who let the cars out ... woof, woof, woof, woof woof!" There's a photo of the Incredible Hulk? "Who let the green monster out ... woof, woof, woof, woof woof!" Apparently intelligent humor just doesn't cut it these days.

The Italian Job. I saw an advanced screening of this movie on Tuesday, and I must say that I was impressed. It's a fun summer movie that's sure to tempt you into speeding on the way home. I'm not a huge Matt Damon fan, oh wait, I'm sorry, that's Mark Wahlberg in the movie. Same difference. I'm not a huge Mark Wahlberg fan (I have a hard time getting past the whole Marky Mark thing), but in all honesty he didn't do a bad job.

I do love me some Charlize Theron though, and what guy can't get excited over Charlize Theron in a car chase? Well, possibly the blind dude from TVGuide.com who wrote a review of the movie, but most normal guys will love seeing Charlize speeding around in her Mini Cooper.

The movie's got a decent plot, a couple of twists, charming characters, a good mix of humor (in large part thanks to Seth Green), and excellent action. The last 15 or 20 minutes of the movie grabs hold of the action and doesn't let up. I hate to say it, but after seeing movies like this and Entrapment, I almost want to be a thief! Because according to Hollywood, most thieves are lovable, fairly attractive, and enjoy the good things in life.

Is the movie completely unpredictable? No. Is it 100% believable? Nah. But come on, it's a MOVIE! Don't worry; it's not as unbelievable as your typical James Bond flick. It's exactly what you want from a summer movie, and unless you're the type of person who likes to pick more nits than a hyperactive monkey on speed, then you should enjoy it.



The hardest working chin in showbiz. On Wednesday, Stephanie, two of our friends, and I watched one of the worst movies I've ever seen in my entire life - "Dragonfight." It stars Michael Paré (who was actually only in the movie for about 5 minutes), but it was not your typical Paré movie that provides entertainment value through its sheer craptitude. No, this is the type of movie that's so bad it's just painful to watch. When the movie ended, I was shocked to find out that it was only 80 minutes long. It honestly seemed like I had just spent 2 1/2 hours watching that garbage.

I think they had a 5-minute movie, but they had to stretch it out to 80 minutes, so they'd throw in a 15-minute scene of a dude running through the desert, and then they'd follow that with a 10-minute scene of a woman trying to climb a hill. It was just unbelievably bad. However, there was one funny thing in the movie, and that little bit of humor was the chin of one of the movie's lead actors - Robert Z'Dar. This guy has a chin that would eat Jay Leno's chin for a lightweight snack and not even blink. How freaky would it be to see a chin that blinked? Anyway, I wish I had a screenshot from the movie of Z'Dar wearing his chain mail because he looks JUST LIKE Buzz Lightyear. Check out his website and prepare to be frightened. Seriously, I think his chin has its own fan club.

That's it for this week folks. Go watch "The Italian Job" and try to maintain your speed on the way home.

May 23, 2003

The Weekly Wrap-up

Welcome to a new feature of The Doorless Stall. Every Friday I'll do my best to comment on the major news of the week or just to share my reactions to my experiences with the human race. Sometimes I'll write actual editorials about a particular subject, sometimes I'll report on a new email prank, and sometimes I'll just write about random topics. I have very little energy at the moment, so I'm just gonna comment on a few random topics today.

American Idol

Well, the big news of the week is American Idol. Am I really supposed to care? I only watched bits and pieces of the show, but if I had to pick, then I probably would have chosen Clay, even though he does look like the love child of Pee Wee Herman and k.d. lang (as improbable as that union would be). Doesn't matter too much because I won't be buying a CD from either of these guys. I just hope I don't have to ever hear Randy say "dawg" or "dude" again, and Ryan Gaycrest's 15 minutes better be winding down.

Surviving the Workplace

Is there any particular reason the guy in the cubicle across from me really thinks I want to listen to his music played obnoxiously loud all day? I'm talking CRANKED! He gets a new CD and thinks that by playing it loud everybody will rush over to his cubicle, ask who it is, and then sprint down to Tower Records to purchase it quicker than Tom Cruise purchasing a booster seat ... for himself. If it was Creedence or Tom Petty then I could live with it, but I hope he forgives me if I'm not running over to his cube to jam to some techno beats with him. BUY SOME HEADPHONES! Or learn to use the stupid volume.

BOOYA

I'm driving along the Interstate the other day and I see somebody driving along the road with a whole lot of stuff written on his windows and windshield. It's obviously some kid who is graduating from high school, who thinks this is actually a big achievement, and who thinks people are gonna think he's really cool because he has managed to graduate from high school. I couldn't help but notice that one of the things he had written on his window was, "I did it! boo-yow."

Boo-yow? My preference is "booya," but I understand that some people like to say "boo-yeah," so I can accept that as well. But under NO circumstances will I accept "boo-yow." I hate to be such a stickler for details, but some things can't be compromised.

And what's so great about graduating from high school anyway? It's not exactly a hard thing to do. Just once I'd like to see somebody write on their car, "Man, I gave it my best shot but I didn't do it. Bring on 12th grade again!" I'd think they were too stupid to be driving, but I'd get a good laugh out of it.

Have a great Memorial Day weekend, folks, I'm out of here.

May 20, 2003

Gathering Clouds Part 1

Y'all waited a long time for it, so here it is. Who was lucky enough to make this review's cover of Rider Beat? What's Kid doing singing opera?? Who is interested in the upcoming Rider Review Reader Participation Program? There are more details than you could ever want waiting for you in the Gathering Clouds (part 1) Rider Review.

Also, I'm going to start writing a weekly commentary for The Doorless Stall. I'll probably post it on Fridays. It might ask what's wrong with people, it might detail a new email prank, or it might just be about some of my always mind-boggling experiences with the human race. I hope everybody will remember to check it out.